In the introduction to #ReportingIndi Margo reflects on the intensity of the Indi campaign coverage, citizen journalism how #IndiVotes became Twitter's news feed and views for journalists, locals, Indian expats and interested Tweeps across Australia.
WAYNE JOINED TWITTER early on and became a Twitter warrior, a leftist politics junkie used to his hashtag #auspol. I had tweeted several times with growing desperation for a citizen reporter to report Indi for No lies. I had spoken to Wayne but got a sinking feeling when he said in his relaxed drawl:
"I could kind of give it a try, but I'm desperate with words – I'm only good at 140 characters. I am a photographer."
Well, I replied, it will be different, a photojournalism report.
First citizen journalist of # IndiVotes
Wayne's response to the nervous writing was to take a portrait of each candidate and ask them the same questions for the post as a Q and A. He wanted to do them all before the post so no one had any advantage. , but he had a problem with Sophie. Her office wasn't saying yes or no, and when he asked her the question in person at a candidate forum, she said loudly no during the Cathy McGowan hearing because SHE had no time for his constituents.
So we published interviews with independent Jennifer Podesta, Green Jenny O'Connor, Robyn Walsh and Cathy McGowan from Labor, and a report on the boycott of Sophie.
Wayne immersed himself and his confidence grew when he "stopped thinking about how to write and started thinking about what to write." He engaged with local candidates and reporters on Twitter and posted regular full updates with links, key tweets by locals and national tweeps, photos of campaign material and his ratings on the progress, all of which turned out to be nifty. He has traveled hundreds of miles to drop detailed accounts with photos and live tweets from the increasingly frequented and passionate candidate forums in Wodonga and Wangaratta.
Wayne criticized McGowan for her lack of political detail and understood early on that she had strong support from the National Party. He pressed her heavily in an interview over speculation that former National Party leader Tim Fischer was advising her.
On the day of the Wodonga Candidates Forum, local Tom Anderson tweeted a request for details in #IndiVotes, and I suggested he tweet the event live. He did, including selfies with all of the contestants (his photo with Sophie was his only contribution to No lies blanket). He then stayed awake all night writing down his experience and his thirst for more involvement.
And then there were two
Tom became my second citizen journalist in Indi. He rushed to the press conference for former National Party MP Tom Jasper, announcing his support for Cathy, and spent hours typing in the transcript. His campaign report for September 2 was bubbling with enthusiasm:
"Every day in the two weeks (since my first post) has seen a forum, press conference, or event. It's almost a full time job, just trying to stay on top of everything that is going on around you. I have been surfing the 'high sugar' and am addicted to election events in Indi Headquarters and fully engaged in the #IndiVotes Twitter threads every day and night. "
Tom Live tweeted the Wangaratta forum, asking Sophie why she boycotted the stolen generations' apology, and interviewed the independent filmmakers who had arrived to record the campaign ten days before the election.
The Internet miracle
Cathy's media advisor Cam Klose wrote me an article describing the change in mood at Indi and the importance of social media to Cathy's campaign:
"With a mix of Twitter, Facebook and Nationbuilder software, we were able to efficiently organize our 300+ active volunteers and connect our field team through social media. Thanks to Twitter, we were also able to engage with people outside the electorate. After the surge of media attention last week, we received thousands of dollars in campaign donations. The majority of those donations came from outside India and most of the calls for donations came from people on Twitter. "
Melbourne playwright Van Badham ran the Tweep fundraising campaign, and I commissioned her an article (a friend of mine donated her fees) on why she got involved:
"The miracle of the Internet is the communities it brings together. A flippant 'why not give five dollars to the freelance who goes after Mirabella?' tweet was shared by hundreds of people, not because I'm particularly influential, but because feelings about Mirabella's public meanness and Tony Windsor's kindness were already shared by the friends I made in my house. digital community. As the internet continues to tear down the lines between old and new media, old and new politics, it has broken down old separations between electoral communities, city and country.

Whether McGowan can actually win the seat is secondary to what makes the Indi contest important. By allowing individuals to easily meet across a once prohibitive geographic and social space, the Internet undermines the authority of political representatives to own the identity of their enemies. This downtown girl might not have much in common with Cathy McGowan in terms of life experience or outlook, but I respect and admire her, and I want her to win.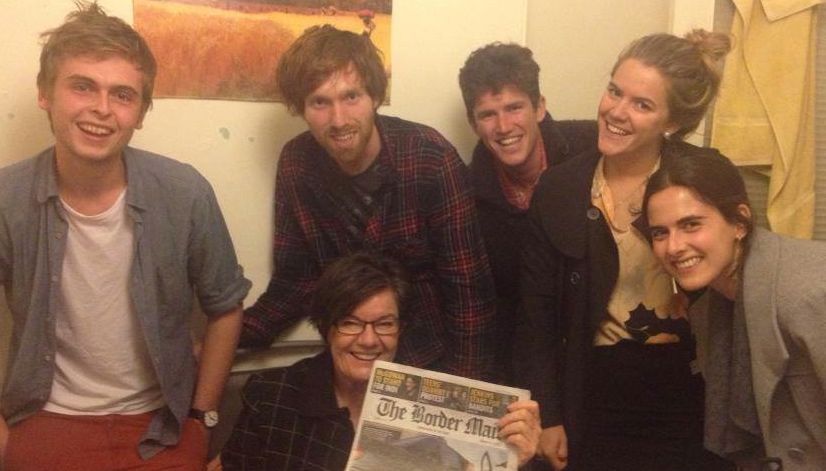 Van's article inspired Cathy's nephew, Ben McGowan, to write an article about how Voice for Indi used rural networks to create the community movement supporting McGowan. In How Indi Got On The Map: The Blueprint, he revealed that the Victorian Women's Trust Purple Sage project in the late 1990s was the basis for his conversation beginnings around the kitchen table and that his CEO Mary Crooks had advised them on the process:
"We are nearing the end of a successful 16-month project, but its origins were ominous, just talking about politics around the chipboard tables in the community hall of the Wangaratta library. Talk politics around the kitchen table with friends and family. And now to talk about politics across the electorate. Hopefully they could talk about our style of rural politics in Canberra next year.
Even candidates put their pen to digital paper
And over the past week of the campaign, Podesta and O'Connor wrote some compelling plays about their involvement in Indian drama and how they interpreted what was going on.
No lies was seriously value added. We were on top of the best threads in the election campaign and were creating a valuable brief for future analysis and interpretation. A Twitter-based website featuring citizen journalists on the ground in India produced Australia's most comprehensive and innovative national coverage of India. I was delighted.
The series
#ReportingIndi
is adapted from the original Margo Kingston report detailing
No lies
community coverage of the Indi Community Campaign – Adapted by Lesley Howard @adropex
In part 2 of #ReportingIndi It's election day, flags fly and Margo crisscrosses Indi, hitchhiking with Cathy on the way.
Characteristic image: Margo Kingston and Cam Klose at IndiShares, 2014 – Photo: Wayne Jansson @jansant
Other articles by Wayne Jansson:
Related