Start growing Malta and other fruits in the footsteps of a former expat
Inspired to try his hand at the culture of Malta, Habibur Rahman Matubbar developed 15 bighas of land near his home with the help of an upazila agricultural agent. Photo: Sohrab Hossain
">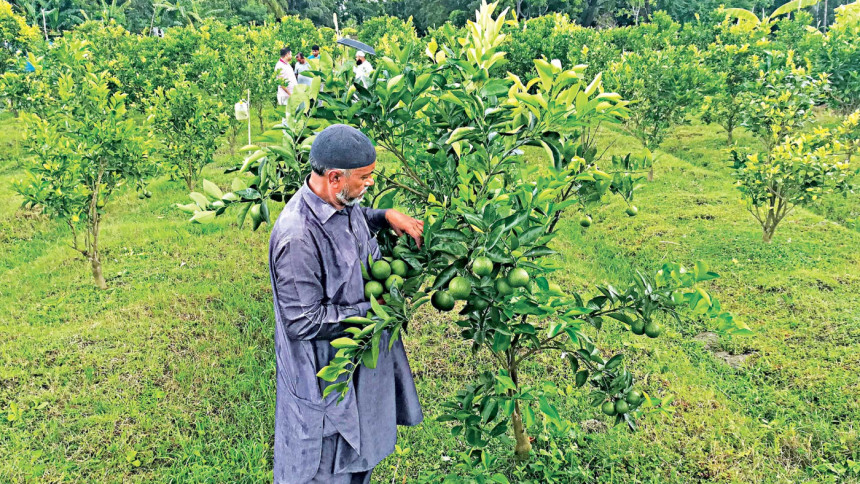 Inspired to try his hand at the culture of Malta, Habibur Rahman Matubbar developed 15 bighas of land near his home with the help of an upazila agricultural agent. Photo: Sohrab Hossain
Former expatriate Habibur Rahman Matubbar, a resident of Kewabunya village under Amtali upazila in Barguna, has had great success growing malta on his 15 bighas of land for the past seven years or so.
Matubbar, who has lived in Saudi Arabia for nearly 20 years, wondered how he could earn an income after returning to Bangladesh in 2015, which led him to the success story of another Maltese farmer which was posted on YouTube.
Inspired to try his hand at growing fruit, Matubbar developed 15 bighas of land near his home with the help of CM Rezaul Karim, the upazila agricultural officer.
After planting a total of 5,000 saplings, the orchard produced 1 lakh Tk of malt in one year.
Matubbar says his garden, where he also grows other crops, has brought him at least Tk 12 lakh over the past four years.
Apart from malta, which is a type of orange, he also grows mangoes, lemons, bananas, papayas and lychees to earn around Tk 3-4 lakh every year.
Additionally, there are two ponds which have a radius of three bighas each which Matubbar uses to cultivate various types of fish, earning him another Tk 3-4 lakh per year.
However, he insists that Malta remains his main source of income with returns increasing every year.
Matubbar is now well known for his success as a self-employed farmer with neighbors and locals from near and far coming to consult him for farm work.
Many people even try to emulate its success by growing various fruits including malt, papaya, guava, and banana in their garden to meet their own dietary needs and earn extra income.
"In just five years since my time abroad, I have become a successful Maltese farmer earning hundreds of thousands of taka every year," Matubbar said.
"Besides, I am now the perfect farmer as I also grow different varieties of fruits and fish. I am proud of this job," he added.
The former expat went on to say that his Malta usually sells for between Tk 200-250 per kilogram.
Harun Or Rashid, a neighbor of Matubbar, said many people in the area now grow malt and other fruits.
Upazila agricultural officer Karim and other agriculture officials often visit Matubbar's farm, which has helped provide a source of food for the people of the area.
Due to its success, many farmers in and around Kewabunya village grow different varieties of fruits in what were once paddy fields.
Md Badrul Alam, additional deputy director of the Department of Agricultural Extension (DAE) in Barguna, said that Malta is a profitable agricultural product.
"Due to its good demand and price across the country, farmers are increasingly turning to the Maltese crop. In Barguna, 20 hectares of land have been cultivated this year and the area is increasing every year," he added.
Malta's production across the country doubled between FY 2018-19 and FY 2020-21. Farmers bagged 7,000 tonnes of fruit in the 2020-21 financial year, up from 3,000 tonnes the previous year. The total cultivated area in Malta has more than quadrupled to 13,000 acres at the same time, according to the Bangladesh Bureau of Statistics.