The first story I'm sharing this week came out of the Western world in April 1926 and concerns the organization of a volunteer fire department, which was granted the use of Old City Hall (first photo at west end of First Street) as a fire station and volunteer department headquarters.
Between 50 and 60 people attended a mass meeting held at City Hall to discuss the issue, with a committee of CR Wade, Herbert Brown, DC Kay, Ed Capps, Vic Breuer and JC Page appointed to work out the necessary bylaws and city ordinances.
"It has been reported that Bandon once had as good a volunteer department as there was in the state at that time. Some members are still in the community and there are many more who have had experience in other cities, whose help will be sought.
"The ideas suggested and gleaned from the discussion indicate that the fire chief and those in the department who report the fires would receive compensation."
They believed that "the second floor could be converted into a dormitory for a number of single department men, which would ensure that someone was on hand to operate the truck at night.
"JE Walstrom said he could provide space in his warehouse for a small hose cart with about 300 feet of hose that could be used along the waterfront to connect to the tug and thus expedite service from this source. He also suggested that the hose cart stations be placed in various parts of the city in the residential area." Walstrom's building was on First Street, roughly where the wheelhouse now stands. The old town hall is now the site of Edgewater's.
I have chosen a photo of Jerry's restaurant (opposite the current Harbor Market building) to help illustrate the next story from July 1929.
"At the Chamber of Commerce meeting held at Jerry's Wednesday noon, a resolution was passed asking the City Council to increase licensing fees for medicine parlors to at least $50 per day. The licensing fees at the moment are $10, which is considered quite too light considering the fact that these attractions do not pay taxes, nor do they contribute in any way to the welfare of the city while they provide competition to various business institutions that contribute to the city and that they take a lot of money out of the city.
"Similar action has been taken in Marshfield where the city has set license fees at $100 a day and has further made fire regulations for tents so stringent that they are likely to discourage any spectacle of this guy in the future.
"Better protection against nightwear vendors and other route dealers was also discussed. In Marshfield, an ordinance requires a new business institution to show a one-year lease on a location or post a bond of several hundreds of dollars before being allowed in. This keeps out street vendors who use a vacant building for a few days and unload quantities of dodgy goods on the public without paying their share for the upkeep of the city.
The third photo features the first Cranberry Court, taken in November 1947. Standing in the back, left to right, are Virginia Corrie, sponsored by the Randolph Community Club; Jeanette Danielson, Bandon VFW post; Janet Helme, Westmost Grange; center, Queen Ruth Kreutzer, Langlois Community Club; front left, Joanne Smith, American Legion, and Pat Whalen, Bandon Active Club.
Virginia Corrie was the mother of Corrie Gant, who lives with her husband Paul Fisher in Bandon.
Events at the first festival included the coronation on the Ocean Crest School stage, a yard lunch at the Minute Cafe, the Cranberry Bowl football game, which saw Bandon defeat Myrtle Creek 13-9, and the festival dance held at The Barn. Art Dobney was the emcee for the coronation, with Mayor Rudy Backlund crowning the new queen.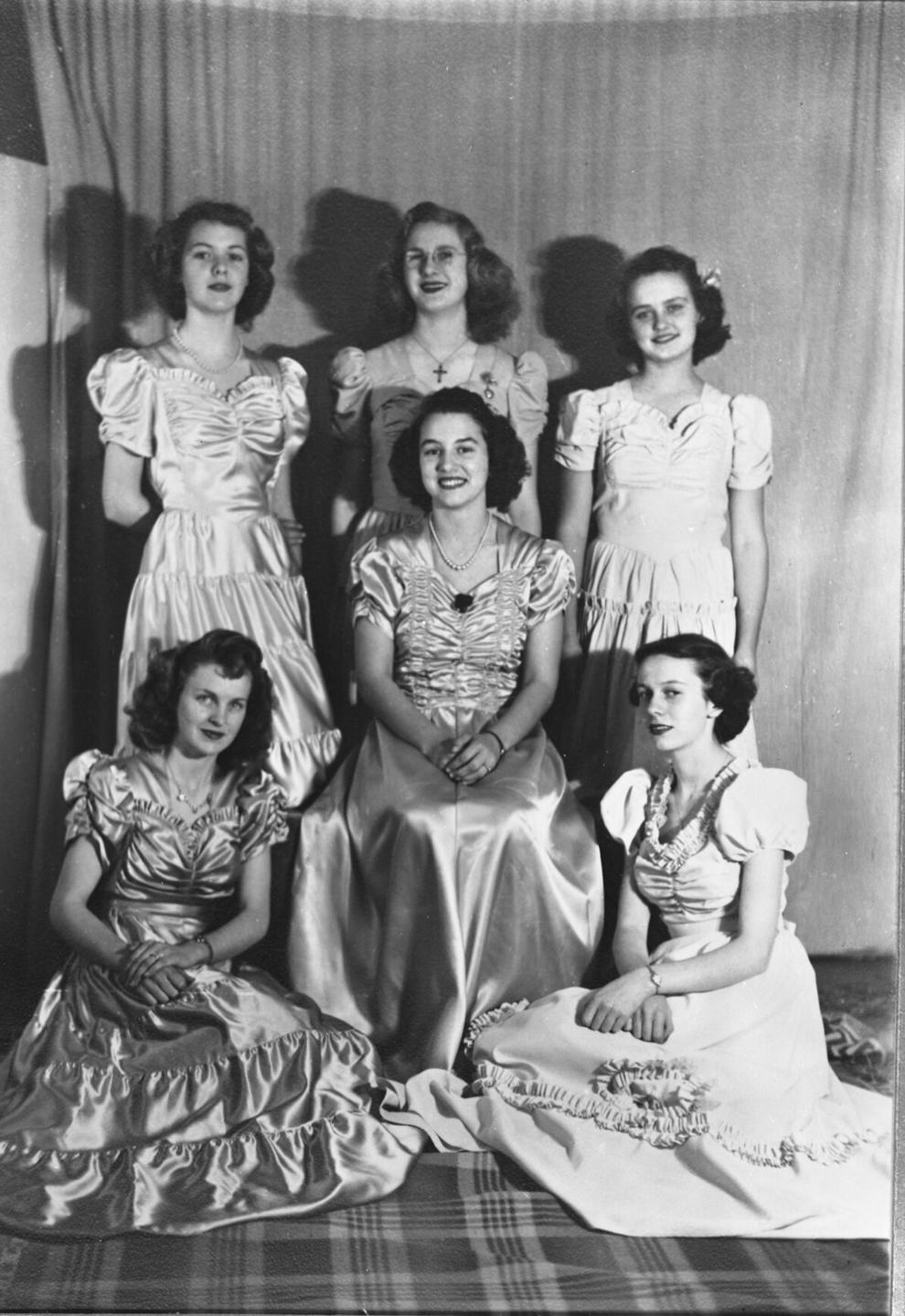 The newspaper article read: "When the judges' decision was announced, Miss Kreutzer knelt to receive the crown. carrying the crown and the other the queen's bouquet. They were little Mr. Michael Dobney, son of Mr. and Mrs. Arthur Dobney, and Miss Judy Brown, daughter of Mr. and Mrs. Vern Brown. Director of Public Services John Fasnacht presented her with a key to the city.
The news is good: Bandon will have a Cranberry Court. Festival princesses from September 9-11 include Hallie Minkler, KayDence Augsburger and Rhiannon Green.
Court directors are Angela Cardas Meredith, Briana Hutchens and Kimberly Carrero. I will have more info on the princesses as they are released by the festival committee.
I was saddened to learn that one of my classmates, Larry Sabin (class of 1957) passed away at the age of 83 on Thursday morning, surrounded by his wife Juanice and family. His children and their families include Janice Huntley, Pam Johnson, Wendy Sabin, Rick Sabin and Larry Sabin Jr., all of whom live in Bandon.
A retired truck driver, Larry served as chairman of the Rural Fire Protection Board of Directors for more than 40 years, according to a family member.
I was also sorry to learn that Pat Taylor, longtime owner of the Minute Cafe, had passed away, but I don't know the details. I believe she lived in Washington State. Among Pat's survivors are his daughters Edith Vierck and Pauline Taylor and their families.
I recently learned that Bandon native Don Sweet, the last surviving member of the WJ Sweet family which included Piercy, AW (Bill), Helen Mayse and Anne Felsheim, died May 18 in Portola Valley, Calif. 98 years old. His 73-year-old wife, Beth, died less than three months earlier. They had five sons, including Richard, who died aged four from childhood leukaemia. The surviving sons are David, Scott, Stuart and Tom and their families. Don was a graduate of Port Orford High School and Stanford University, and attended Cornell's Midshipman's School in the Navy V-12 program.
I learned that there is a new member on the Bandon School Board following the resignation of council member Brianna Quattrocchi.
Anthony Zunino of Freedom Graphics has been appointed to fill the vacant position. He will join Board Chair Angela Cardas Meredith, Vice Chair David Hisel, Ryan Sherman, Stan Avery, Greg Looney and AJ Kimball.
I was worried when I read a front-page story in The World last week about a Bunker Hill man, George Landon, whose house was burglarized while he was traveling for two and a half days over the weekend -end of the Memorial. Stolen was his $300,000 coin collection, many of which were rare.
"I deeply believe they are drug addicts in Bandon," Landon said when asked who might have done this. It offers a reward of $15,000 for information leading to the arrest and conviction of the person responsible, and an additional $10,000 for the return of his personal effects.
Anyone unaware of the huge increase in crime in Coos County must be living under a rock. Over a three-day period last week, two women were shot and killed in separate incidents in the Coos Bay/Cape Arago area. One was found dead in her home and the other was found dead along the Cape Arago highway.
It is important to remember that hard drugs are basically legal in Oregon. Let that sink in while you try to figure out how it happened. Oregonians basically approved an initiative petition that would allow people to possess an amount of hard drugs (methamphetamine, cocaine and heroin) with nothing more than a $100 bill, which most wouldn't even take not worth paying, according to the authorities I spoke to.
Even if we had more prison beds available, which we desperately need, things won't get better until we deal with the serious drug problem, created by the most permissive drug law in the world. country. It's time to ask legislative leaders where they were when the sponsors of the measure (BM110) were spending hundreds of thousands of dollars on TV ads urging people to vote for it. ———————————
Don't forget that the next Alive After Five wine event will take place this Friday, June 17, from 5-7 p.m. Cards and glasses, costing $10, can be purchased at the picnic shelter on Port Promenade.
There is good news on the scene. Someone representing the Oregon Nurses Association posted on Facebook that "thanks to the advocacy of nurses, community members and elected officials, we are proud to report that we were able to save the unit Bay Area Hospital Psychiatric Center!Special thanks to Senator Jeff Merkley, State Rep. Rob Nosse (from District 42/Portland area) and the Coos County Commissioners and Board Members who are fighting to preserve this vital resource."
I keep getting strangers knocking on my door, the last one being late Saturday afternoon. As I walked towards my sister, I noticed two men wearing hard hats and reflective vests talking to a woman who lives nearby. I don't answer the door for strangers, but apparently a lot of people do, and I don't know why given that one of two home invasions that took place in the Bandon area recently involved two men wearing helmets and reflective vests pretending to be service people. They weren't; instead, they pointed a gun at the owner's head. If Ziply or anyone else wants to contact me, they can send me a letter or email. Or advertise in Coffee Break. But stay away from my front door, uninvited!
Until we figure out how to create a badge that can be seen through the peephole in the front door, signifying they have a door to door permit, I just wouldn't open the door.
Coos Health and Wellness sent out a news release this week advising that levels of COVID-19 in sewage samples have been steadily increasing in Coos County, to levels seen in February when the number of case was high.
They advise people to get vaccinated and follow the boosters; keep home tests ready in your cupboard; do not go to work if you are sick; asking employers to allow employees to work remotely where possible; wear a mask if you have recently tested positive for Covid, continue to inquire; wear a mask when you feel the need, wash your hands and keep away from others when they are not feeling well.